Starbucks Nespresso pods have finally arrived. Do they live up in comparison to freshly brewed Starbucks espresso?
Let's face it. I'm a huge fan of Nespresso machines. Especially on a busy day since they are quick and simple to operate. Regular espresso machines take more time to warm, setup, clean and maintain.
I have tried numerous Nespresso pods including the limited time only flavors.
After trying many something interesting came to mind. I have yet to find a Starbucks version of the pods anywhere. Better yet, do Starbucks Nespresso capsules even exist?
Do Starbucks Nespresso Pods Exist?
Before this came to mind I recall the many times going to different Starbucks locations around the world (Toronto, Montreal, New York City, Lisbon, Macau, Tokyo… just to name a few) and searching for them. But never found them anywhere.
All I remember seeing at some locations were the Starbucks Verismo pods.
So I tried searching for Starbucks Nespresso capsules online and found nothing – except for one.
This was strange because I haven't seen them anywhere before in person or online. Since Starbucks is a big name wondered if these were actual Starbucks pods.
The price was insanely high too – a pack of 6 sleeves for around $90. I decided to skip out as that was just way too much money!
From there I moved on and kept on the lookout for anything interesting.
Something Interesting Eventually Did Happen
I was at work, in the office, and many of us there were starting to get a little nervous. The same week it was announced COVID-19 was an epidemic and the public went crazy. It was reported on the news all retail and grocery stores had huge lineups with people buying all the hand sanitizers, cleaning supplies, water, paper towels and toilet paper.
Yes, you read that right, toilet paper.
At home we had enough of the high demand products including toilet paper, so I wasn't worried about that. But what if things were to get worse and grocery stores lock up their doors until further notice?
During a lunch break two coworkers went to a nearby Costco and mentioned long lineups going in and out. I'm glad they texted me about it because I was planning on going there later with another coworker.
The news got me a little worried to be honest. We were planning on going anyways but made a backup plan to visit a nearby Walmart if it was too busy.
The Time Has Finally Come
It was time to leave the office and head to Costco. Once arriving to the parking lot we noticed there was no lineup at the front door so that brought a sigh of relief.
But we found a parking spot near the back which was already an indication that the place was really busy.
After exiting the vehicle we walked towards the entrance. Upon walking through the first sliding door we only saw three empty buggies available. So I quickly grabbed one and was approached by an employee handing me a Lysol wipe to clean the buggy with.
I appreciated that. Costco wasted no time with the safety measures.
Once I cleaned down the buggy and entered the establishment there were skids on the left side with different items available for purchase.
Most of the time I would find the same products each week – air fryers, multivitamins, water bottles, walnuts, etc. Nothing changed this time except for one thing.
I noticed one skid had something I never seen before. Better yet, something I didn't know existed.
What Was This Mystery Item?
It was a skid of Starbucks Nespresso capsules!
Five sleeves – Two Original Espresso, Two Blonde Espresso, One Colombian Espresso.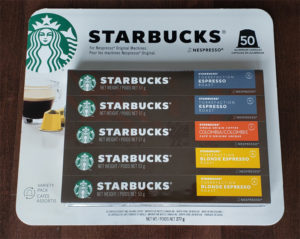 What Happened Next?
I grabbed a pack and placed it right in the buggy.
Next I stood still, smiled into outer space and continued shopping during the madness.
Later In The Day, After Work, I Did Something Completely Shocking
I drove home!
But also took the pods home with me.
I idolized those pods each and every single day. In fact I didn't even care to open it. I was excited enough just to stare at it.
Dave You're Weird. But Did You Ever End Up Opening The Package?
After quite a few days staring at and admiring the package, I finally cracked open the cardboard.
There are THREE types
Original Espresso
Blonde Espresso
Colombian Espresso
The first sleeve I decided to crack open was the blonde espresso.
Truth is I never tried their blonde espresso but did have their blonde roast a while back. Just don't remember how it tasted.
With the blonde espresso pod, I'm going to brew the smaller cup size on my Nespresso Pixie machine.
Dave, How Did It Taste?
I was impressed. It definitely tasted like Starbucks. These pods were done right!
At many Starbucks locations I've tried their regular espresso. This blonde Nespresso pod tasted like a lighter version of Starbucks espresso. Wasn't as bitter but the taste was similar.
Once I finished drinking it, I brewed a second cup with the same used capsule. Only difference is I brewed a larger cup size this time.
Once done I took a sip and noticed most of the flavor was retained. Tasted a little lighter and didn't have as much as the burnt bitter taste as the first brew.
What Are My Thoughts – Do The Starbucks Nespresso Capsules Compare To The Real Thing?
If you are a big fan of the taste of Starbucks coffee and espresso, this would be a winner for you. These are official pods made by Nespresso for the OriginalLine machines. So the quality is definitely there. Best part is they are a little cheaper in price than the official Nespresso capsules.
Only downside for me though is I didn't feel much of a caffeine kick from these. So far I have had about five of them and only felt a kick from the fifth one. With that I used the larger cup size and drank it on an empty stomach.
I always got a little kick from an actual espresso at Starbucks. And a much larger kick from an actual Starbucks coffee – mostly Pike Place.
Same can be said when comparing their actual store made coffee to the homemade version made with store bought beans or Keurig pods. I get buzzed off their store made coffee. Never feel a thing from the homemade versions.
If you are a huge Nespresso or Starbucks fan, these are definitely worth trying!
Any questions or comments, please leave them below.
Thanks for reading!