Discover simple and delicious espresso drink recipes here.
In my opinion these are delicious because they were designed and crafted by my imagination.
The mind is a powerful tool!
Of course I need to hype up my own drinks.
Need to get you, my amazing reader, interested in reading about whatever crazy espresso recipes I come up with.
Taking Time To Brew Espresso Drinks Can Be Difficult
You live a busy life and may be difficult for you to spend time on creating fancy drinks.
Luckily for you I don't own any fancy machines or have the time to make a 132.4 step coffee drink as well.
So if this sounds like you, I'm hoping my recipes will be a benefit to you.
Is There An Alternative To Fancy Drinks?
I have two active machines at home.
Breville Espresso Machine
Nespresso Pixie Machine
Each morning from Monday to Friday we get up early for work. This doesn't give us much time to play around with these machines.
So I've been testing out quick and simple espresso recipes which taste good.
Each recipe works with both espresso and Nespresso machines.
The list of espresso drinks are below.
Number 1 – Cuban Espresso
I purchased a pack of compatible Cuban Nespresso pods made by an Israeli company. They use Cuban beans for their capsules. Just a reminder that compatible nespresso capsules only work with a Nespresso Originaline machine.
My Directions
Turn on your espresso machine so it can warm up
Pour some cane sugar into the espresso cup
Brew the espresso
Wait a little so the hot espresso turns the sugar into a paste
OPTIONAL – stir your espresso if you like
One of my coworkers always seems to get excited after taking the first sip. Sometimes she just chugs the whole thing down and still shows excitement afterwards.
Number 2 – Espresso Americano
It's espresso with water or in other words, watered down espresso. But does not taste or feel watered down at all.
Some say you should put the same amount of water as you do espresso into the cup. I tried that once and found it to be watery.
What works for me is pouring in water equivalent to 1/3 the amount of espresso I plan on brewing.
My Directions
Turn on espresso machine to warm up
Pour some water into microwavable cup and heat in microwave
Pour heated water into espresso cup – About 1/3 the amount of espresso you plan on brewing
Brew espresso on top
For heating up water you don't have to use the microwave. You can use tea kettle or boil on the stove.
Whichever works for you.
Number 3 – Sweet Creamy Cinnamon Espresso
Here's a recipe I played around with for a while.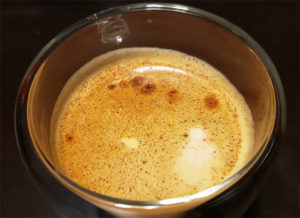 This drink contains half & half cream, cinnamon and cane sugar.
I attempted multiple variations which never turned out right. After a little experimentation in front of the espresso machine, finally got the taste I wanted.
Best part is at that point I felt like a top tier barista – Watch out high end coffee shop, here I come!
A man can only dream..
My Directions
Pour a tiny bit of half and half cream in the espresso cup
Sprinkle some cinnamon onto the cream
Pour a tiny bit of cane sugar onto the cinnamon covered creme
Brew espresso on top
Here's an added bonus.
The final product will come with a nice design as you can see in the image above.
This espresso drink made me proud. The day I finally got it done right, this picture was taken and I bragged about it to my coworkers.
Once again, I truly don't think any of them really cared.
Nothing new in my life..
Number 4 – Chocolate Milk Espresso
Chocolate milk dilutes the espresso a little and adds a very light creamy sweetness to the espresso.
In a normal small sized espresso cup, first pour in the chocolate milk – amount would be about 1/3 the amount of espresso you plan on brewing.
Next brew espresso on top.
Number 5 – Chocolate Milk Whip Cream Espresso
Here's a different version of the above recipe.
This requires chocolate milk and whip cream.
First pour in chocolate milk. About 1/3 the espresso amount like the recipe above.
Next squirt a layer of whip cream on top.
Lastly brew espresso on top.
Now there are two versions of this..
Version 1 – Brewed in a Small Espresso Cup
If you do the above recipe in a small espresso cup and start drinking soon after, you'll taste the hot/warm espresso first, the whip cream second and the cold/mild chocolate milk at the end.
Your mouth may experience 2-3 different temperatures of flavor.
Version 2 – Brewed in a Large Espresso Cup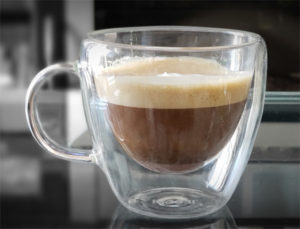 The results won't be the same as being brewed in the smaller cup. You may taste all three flavors and the temperature will be the same on every sip. In my opinion for a unique experience it would be better brewed in a small cup.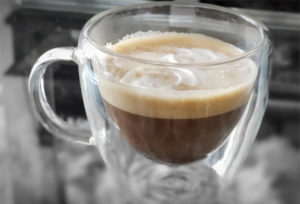 For a unique experience definitely recommend the smaller cup. But don't let that take away from the beautiful taste and flavor you would get having it brewed in a larger cup.
Espresso With Fine Grind Coffee
Now this isn't an espresso recipe. But it's another form of espresso. In a previous post I wrote about using regular coffee beans when I started brewing daily espressos and after a while switched over to using espresso beans instead.
Here's a shocker.
I continued using regular coffee grind for my espressos!
This only happened at random when I found a coffee bean or grind I really wanted to try. Right now the only way I can brew is with my espresso machine. I do have a French Press but it's stored somewhere.
In the future I will definitely take it out and brew some very strong coffee.
So this past summer I explored a random grocery store and came across a coffee grind which I never seen before – Melita Buzzworthy Highly Caffeinated fine grind coffee.
Seeing this for the first time I really wanted to try as you may know I'm a huge fan of highly caffeinated coffee.
If this was brewed with our french press, I don't think I will be able to ever sleep again. So I did the next best thing – used it for an espresso.
ESPRESSO with HIGHLY CAFFEINATED COFFEE will give you LOTS OF ENERGY!
The espresso had both a strong taste and mental effect.
Very good choice for me when feeling sleepy in the morning.
That's All The Espresso Drink Recipes For Now
Thanks for reading about some of my espresso drink recipes.
Down the road I will definitely test more ideas and post about them here.
If you have any questions or comments, please leave them below.