One Sunday we made a stop at the Nordstrom Espresso Bar in Toronto, Canada. After ordering a tropical smoothie we noticed they also sold pure Kona coffee beans.
I know, I'm just as shocked as you are!
Just like you, I couldn't believe.. at an espresso bar of ALL places they sold..
Tropical smoothies!
Yeah, the very rare coffee beans from the amazing climate region of Kona, Hawaii which is VERY FAR as per the image below, was not the shocker.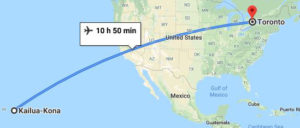 Instead it was the drink which can be purchased, almost anywhere smoothies are made!
The Excitement Was Building
For me this was one of my famous O-M-G moments because I have always wanted to try Kona coffee. I haven't been able to find them in any local coffee shops. I understand Kona is a very small region and not many beans are available for export.
This may be the easiest way for me to get access to them very quickly.
I checked the price and the small box/bag was $39.99 CDN.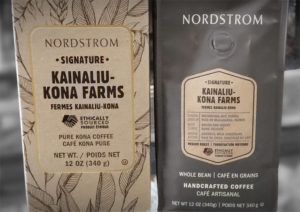 For coffee that's very expensive. But I didn't mind because I knew the costs involved with growing the beans and Hawaiian coffee beans aren't cheap.
So I picked up the box and made my long awaited return back to the cashier line.
Once it was my turn to pay I asked if these were 100% Pure Kona Beans.
Cashier said he'll ask the manager and let me know.
Why Would I Ask Such A Thing?
I have some knowledge on Hawaiian coffee from prior research.
Hawaii is made up of many islands and the Kona region is the only area with the perfect climate for growing coffee beans.
The different climate near Kona has a huge effect on bean quality and the beans turn out nothing like they do in Kona.
When searching for Kona beans there are two types you may come across
Kona is a small region and very little beans are grown each year. Add to that the expensive labor used for growing and maintaining the beans (USA wages).
100% Pure Kona Coffee is what I recommend as it should be pure Kona coffee beans.
What I heard though is Hawaiian law states companies can label their coffee Kona Blend if they use a minimum of 10% pure Kona beans.
That's it.
Kona blend may be cheaper in price but if it's just around 10% Kona beans, then you won't be tasting it at all.
It will taste like whatever regular coffee beans are mixed into the package.
Cashier Came Back To Me With BREAKING NEWS

Cashier returned and mentioned his manager stated that the beans are all pure Kona beans. I smiled and responded with "Take my credit card!"
He replied "Would you like me to grind this for you? You can brew it in a French Press."
I said "Yes please!" and thought "I guess the French Press will eventually make its debut on this website!"
We Finally Got Home
After purchasing the beans we got home a few hours later. Took longer than expected. I wanted to get home a lot sooner just to try out the coffee.
We were exhausted. Out of all the interesting things we bought all I thought about was the Kona.
If you know me very well, you can probably guess where I will try these beans for the first time.
Time To Power Up The Espresso Machine
Power on, water tank refilled with fresh filtered water.
Kona grind placed in the machine and voila.
Look at that, it's beautiful!
Couldn't tell the thickness of the crema since the cup wasn't clear. But it's definitely much lighter in color.
My wife tried first and smiled right away.
"Wow, very smooth! No bitter aftertaste like with regular espressos."
I tried next and was like "OMG!"
Her review was pretty accurate. Just want to add the espresso also came with a light taste.
After I finished drinking, both my throat and stomach felt very smooth.
I was afraid to eat or drink anything right after because of how good I felt physically.
Another Amazing Fact
When cleaning used espresso cups I normally rinse them under water and scrub a little.
After using the Kona coffee, I placed my used cup under the water and right away it became completely clean!
The Kona beans didn't leave any residue.
My wife left her used espresso cup on the table.
I noticed it the next morning at 7:42am EST.
Here is what it looked like.
Normally used espresso cups are much dirtier than that!
How Do I Feel About Regular Espresso Beans Now?

I am finding it difficult to continue using regular espresso beans. Following morning after we tried the Kona, we made Illy espresso.
Let me point out we do enjoy Illy and other espresso beans, but after adjusting to the smoothness of the Kona bean, I thought the espresso was difficult to swallow.
It had such a bitter aftertaste!
Of course I won't switch to the Kona bean permanently because it's way too expensive to be drinking every single day.
If you have a Nordstrom Espresso Bar nearby and these beans are in stock, I recommend giving them a try if within your budget.
Another Option For Pure Kona Coffee Beans Is Available

Once my supply runs out I will definitely purchase more.
But only from companies I trust.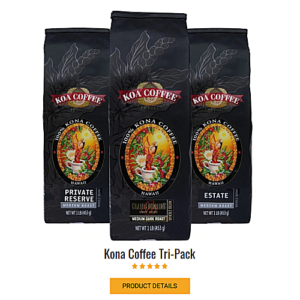 I believe Forbes ranked KOA Coffee as the best coffee in America.
Quite a few different ones to choose from. What appeals most for me is the Tri-Pack pictured above.
Getting the three together will save some money compared to purchasing each bag separately.
But there's a problem.
I want to try every type of coffee they have.. and there are many kinds.
Peaberry
Grande Domaine
Private Reserve
Swiss Water Decaf – I'm not a decaf person so I will exclude this
Estate
And more
They have a pretty good selection of different coffee beans on their website.
For me Peaberry sounds interesting. But I don't really know much, or – anything at all – about it.
Thanks For Reading About My Experience
With Pure Kona Coffee

Thanks for taking the time out of your busy schedule to read my post. The pure Kona coffee beans I tried are the best coffee beans I've had by far.
In fact, just found out a coworker of mine, her cousin works at Nordstrom and is able to get an employee discount.
So she went to pick up another pack for me and went to the cashier line.
Once it was her time to pay, the cashier looked at her and said
"I don't know how you could afford to drink that. That's high roller stuff!"
So if you want to be known as the person who drinks "high roller stuff" I recommend you get this coffee.
If you have any questions or comments, please feel free to leave them below.