Here is my review of Agga coffee pods for the Nespresso machine. Just a note. These only function with the OriginalLine machines and not with the Vertuoline machines.
Agga coffee only comes available in compatible Nespresso capsules and Keurig pods. As of right now I have yet to try the Keurig version. But may give it a shot eventually.
Where It All Started
It was the spring of 2019 and definitely an exciting time to be a Toronto resident. This was the year our NBA basketball team had Kawhi Leonard and we were in the Eastern Conference Finals facing the number one seed Milwaukee Bucks.
For the May long weekend a group of us went on a road trip to Montreal. While we were there game 3 was to be played. At this point the Toronto Raptors were down 2-0 in the series.
It was a little worrisome. The Bucks were the best team in the league and our team had a mountain to climb. During the game we ate at a nearby restaurant which broadcasted the game live.
It was good seeing everyone there cheer for the Raptors. Place was filled with both locals and tourists. Once dinner was finished and the bill was paid, we rushed back to the hotel to put the game back on. Regulation ended and we were going into overtime.
Game ended after two overtimes and Toronto got their first win of the series. So there was hope.
Game was a little concerning. Toronto struggled throughout the game but didn't give up and got the victory.
Keeping that win fresh in our minds made the weekend even better. Overall it was a lot of fun and the morning of our final day we started the long commute home.
Of Course I Had To Check
Once we got out of Montreal I believe we were on Autoroute 20 heading towards Ontario. We were in Salaberry-de-Valleyfield, which I believe is one of the final Quebec towns before the stretch which takes you into Ontario.
While there we made a stop at an IGA grocery store.
Visiting a grocery store before heading into Ontario has become tradition for me every time going to Montreal. Some different food items can be found in Quebec grocery stores compared to Ontario.
But this time my main reason for stopping was just to check out the coffee section.
How Was The Coffee Section?
To be honest, I wasn't impressed. There wasn't anything different about theirs compared to what I have near me.
But wait a second.
There is something I have not seen before.
Agga Compatible Nespresso Capsules
Never heard of this brand before.
For a quick moment I was debating whether to buy it or not.
I say quick because there was still over a five hour drive ahead of us. Didn't want to waste too much time.
Ended up thinking of a quote which helps me get through tough times like this in Quebec;
"If it was discovered in Quebec, it must be good!"
Well that certainly helped. I decided to buy the coffee right away!
How Did The Coffee Brew?
Right away nothing came out of the machine other than PURE COFFEE.
It was not watered down at all!
How Did Agga Coffee Taste?
RISTRETTO Ultra Velvety – Intensity 2 out of 6
SMOOTH with a very light bitter taste.
After swallowing the taste is nearly gone from your tastebuds.
INTENSO Sophisticated and Rich – Intensity 5 out of 6
STRONG yet smooth taste while in the mouth and after you swallow.
Overall this is a pretty good brand of compatible Nespresso pods if you prefer a light smooth taste.
I just finished the two boxes I purchased in Quebec over half a year ago. Reason it took so long was because after purchasing those, I also purchased
Huge selection of compatible Nespresso pods in Europe (Greece and Italy)
Jumbo pack of 100 pods from Amazon
Multiple packs of compatible Cuban Nespresso pods
Over 4 bags of large coffee beans from different regions
Three small bags of Kona coffee beans
Speaking of Kona, I originally thought Agga was pretty good. Ever since trying 100% Pure Kona Coffee, it has become harder for me to drink bitter espresso. Agga is smooth and I appreciate it even more now after drinking Kona.
Since the two boxes are finally finished, I went online right away and purchased an AGGA 80 pack featuring 8 different flavors including the two I tried above.
Now we're talking!
Shipment Has Arrived
That came quick.
Which flavor should I try first?
Intenso
Fortissimo
Kenya AA
Odassio
Organico
Ristretto
Lungo
Cremoso
The shipment came over the weekend and I didn't bother opening it. Instead I waited for Monday. Wanted to bring it to the office and try them there.
Monday Morning Has Arrived
After arriving to the office I opened the box.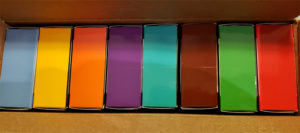 Took them all out.

Asked a coworker next to me who is a huge tea fan which of the eight I should try first. She doesn't drink coffee or espresso at all so there won't be any biased opinions.
She noticed the Fortissimo had both 'Strength and Character' so thought that would be the best choice.
FORTISSIMO Strength and Character – Intensity 5 out of 6
This definitely tastes like strength and seems to have a strong character. But goes down smooth with very little aftertaste.
But that's not all.
Later in the day I wanted to try another. My coworkers started to worry because it was going to be my third espresso that day.
My next choice was
KENYA AA Absolutely Black – Intensity 6 out of 6
This was the strongest and most bitter Agga pod yet. For a moment I couldn't handle the taste but soon it faded and became smooth.
In other words it goes from being bitter to completely smooth.
My Final Verdict
From all the compatible Nespresso pods I have tried, the Agga brand is perhaps the smoothest. Normally after purchasing a certain brand the first time, I wouldn't bother doing it the second time. Just because there are many others I want to try.
But I ended buying more of these because I enjoy smooth espresso.
Thanks for reading my review.
If you have any questions or comments, please feel free to leave them below.