Recently a Neo Coffee Bar opened in Toronto and finally got the opportunity to check it out. Didn't have much time to stay inside and explore it though. Everything written below is based on my first experience there.
Please note I will be making a return to this location eventually. This is their second Toronto location and they have an additional espresso drink I want to try.
It Was Early Sunday Morning
We had to get up early in the morning to get something done in downtown Toronto. Despite it being a snowy winter morning, I was excited because the Neo coffee bar was close to where we were going. Prior to this day I passed by the cafe a few times and it looked fancy inside.
Now I can check it out and finally try an espresso.
Morning Duties Are Now Complete, Next Stop Is The Neo Coffee Bar
Did I mention it was a snowy morning?
After entering we noticed it was quite busy inside. All the tables had customers sitting in them.
But that was not a concern. I was just focused and excited to see what they had available for espresso.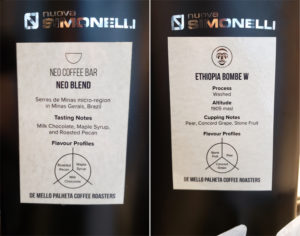 They had two types of espresso available and both looked delicious.
The Neo Blend featured flavors of milk chocolate, maple syrup and roasted pecan.
Ethiopia Bombe W featured flavors of Pear, Concord Grape and Stone Fruit.
Both sounded amazing. The Neo Blend seemed like an addicting type of espresso while the Ethiopia Bombe W seemed like a very unique one definitely worth trying.
After spending some time deciding on which to try, I decided on the Neo Blend.
What Kind Of Coffee Bar Is This?
Neo coffee bar is a cafe serving coffee and Japanese style baked goods. The Bay St. location featured here is their second location in Toronto.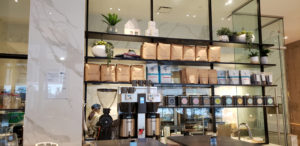 Minimal decor with a lot of wood.
Looks simple and elegant.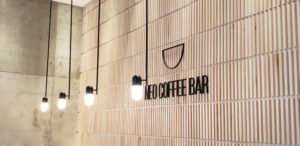 The Espresso Drink Was Ready
As I approached the counter to pickup what I thought would be just a regular espresso cup, here is what I saw
Served on a wooden plate was a beautiful espresso in a black and white cup. With that came a shot glass filled with carbonated water. The final piece was a note with details and information on the Neo blend espresso I ordered.
To be honest I have never received an espresso like this before. If you have seen this elsewhere then it shows I have not been to many coffee bars.
From what I understand the shot glass with carbonated water is used to rinse your mouth before each sip so you can experience full flavor of the espresso. I really enjoyed it and noticed the flavors of milk chocolate, maple syrup and roasted pecan which all blended well together.
What Did The Note Reveal?
After finishing the delicious espresso I read what the little note revealed.
The coffee beans used for this blend came from the Serras de Minas micro-region in Minas Gerais, Brazil. The beans were grown at an altitude between 1,100 and 1,500 meters.
But one thing which really caught my attention was the bottom on the note. It shows De Mello Palheta Coffee Roasters and they are the ones who custom roast this delicious espresso blend for Neo.
Something Interesting About The Coffee Shop
After we sat down and enjoyed sipping the espresso and carbonated water separately, we noticed something displayed on the wooden table.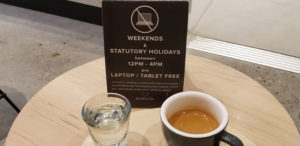 On the internet I have seen pictures from random coffee shops showing signs asking people to chat with one another instead of using their cell phones.
That's a fantastic idea considering many nowadays are too glued to their screens and some are losing the skill of social interaction.
With Neo here, on weekends and statutory holidays they want people to not use their devices and chat with each other instead.
I like that idea. What do you think?
How Is Their Espresso Made?
As we sat down at a table I looked forward and saw this interesting sign displayed.
I'll be honest.
This was the first time hearing of 'la marzocco' and I had no idea what it was.
All I knew was it sounded Italian.
So I looked it up online and discovered it's an Italian company based out of Florence which produces very high end espresso machines.
I checked online for some of their machines and they are very expensive. Each one I found costs thousands of dollars. Funny thing is if it wasn't for this coffee bar, I wouldn't know this brand of espresso machines even existed.
Did Learning About The Espresso Machine Change My Opinion In Any Way About The Espresso?
The espresso here was a little more expensive than the average cafe. But the presentation and what they give you far exceeds what I have seen elsewhere.
Espresso was thick, smooth and came with a delicious taste.
After learning it's brewed by a machine I will never be able to afford, I can say knowing about that made the espresso experience that much better for me.
My Final Words
Will I return to the Neo Coffee Bar? The answer is yes!
Next time will definitely try the Ethiopia Bombe W if they have it in stock. I'm not sure if it's a temporary, seasonal or permanent flavor. Next time I go back will definitely try it or whatever new blend they have available.
My experience there opened my eyes to what is possible with an espresso drink.
As for the food options, they look interesting and will definitely pick something next time to have with my espresso.
There are two locations in downtown Toronto as of this writing. If you're in the area, feel free to check it out.
If you have any questions or comments, please feel free to leave them below.