I wondered how to be a better barista at work. This occupied my mind due to the rave reviews my coworkers have given me based on my espresso drinks.
There has got to be a way to take it up another notch.
But before we do, let's see how it all started.
Beginning Of My Journey
After trying numerous coffee beans, Keurig pods and Nespresso capsules, I honestly thought about creating a coffee website.
I wonder if I ever went through with that..
As I was doing research on what topics to write about, I realized it would make sense if I knew or had any idea on how to make coffee related drinks.
Basic knowledge at a minimum would be nice. Good thing I knew how to brew a regular espresso.
The Research Stage Has Begun

On the internet I did a search for coffee drinks. First which popped up was the Americano. I was happy because it's really simple to make and something I drink quite often.
The Americano requires two complicated ingredients: espresso and water.
That is all.
So it shouldn't be difficult to brew, am I right?
Before my first attempt at making this amazing drink, I searched online for instructions on how to make it properly.
And what I learned online was different from what I would have attempted.
How Did My First Americano Turn Out?
I was very impressed. Had a nice taste and aftertaste.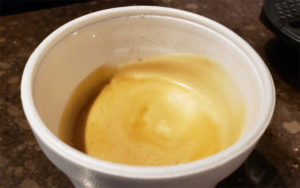 At this moment I was very proud.
Each and every attempt afterwards, I used different coffee and espresso grinds and adjusted the amount of water in each cup. They all tasted fine.
My goal was to create the perfect Americano. But I wasn't able to figure out if any of my creations would be considered perfect.
From there I tried creating different coffee drinks including the Cuban espresso and other custom ones.
I Believed It Was Time
Since I have gotten good at making a minimum of two different coffee drinks, it was finally time to take my talents – to the office.
My excitement went through the roof. I couldn't wait to start making these coffee drinks at work, in the office.. for myself.
The reason I'll be making them for myself is because truthfully, I'm not going to walk into the office and say out loud
"HEY EVERYBODY, GUESS WHAT, I NOW KNOW HOW TO MAKE A COUPLE COFFEE DRINKS!
IF YOU WANT ANY RIGHT NOW, OH YEAH, I'M YOUR HOOKUP!!"
And guess how many people or coworkers would come screaming to me saying "Yes please!!" ?
None..
So of course I had to get people to notice my drinks.
Only way to do that was to make delicious looking drinks for myself, place them on my desk and have people walk by saying "OMG… That looks good!"
Was I Able To Get Anyone At Work To Notice?
The answer is simply – no.
But something inspiring did happen.
Someone Wanted Me To Make Them A Coffee Drink
I was sitting at my desk and craved an espresso. Before I got up to make one, I asked a female coworker sitting next to me if she wanted an Americano.
She's a heavy coffee drinker but never craved any espresso drinks in the office. But this time she accepted my offer.
Next I went to the tea kettle, boiled some water and poured it into the foam cup. Then brewed espresso on top.
Once finished I handed it to her. She was wowed by the crema flowing on top and said it looked "beautiful." Next she took a sip and her eyes lit up. She said it was really good.
I will never forget the impressed look on her face.
The Domino Effect Started
Her husband works in the same office. And he's also a huge coffee drinker. The following day, or near the end of it, he mentioned he was craving an espresso.
My eyes lit because, well, I never heard that coming from him. Though he is a big coffee drinker.
His wife walked up to him and said with excitement "Whoa, hold on, let Dave make you an Americano. He makes a beautiful Americano!"
I was like "Oh my… I make a beautiful coffee!"
She handed me a large glass espresso cup and I got to work.
Went through all the steps for brewing a beautiful Americano.
And yes, I now call my Americano's beautiful because of my coworker.
This picture was taken as it was almost finished brewing.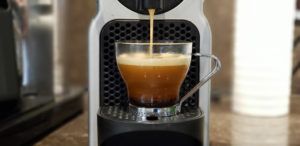 After handing him the drink he got excited because of how delicious it looked.
Next he took a sip and said "wow…"
Yes that's right.
Wow with three periods at the end!
Was That All?
The funny thing is he drinks a cup of coffee everyday. But not recently.
It was near the end of the work day and for fun I asked if he wanted an Americano.
This was perfect because he didn't have a coffee all day. So I knew he would want one.
He smiled and said "yes" then added "I want to learn how you make it" so he watched everything I did so he can make the drink himself.
That proved to me I have what it takes to make an excellent coffee drink.
How To Be A Better Barista
Word is getting around that I am becoming known as the office barista. The following is what we have in the office
Regular coffee brewer
Keurig machine
Nespresso machine
Tea kettle
Filtered tap water
Half and half creme
Variety of compatible Nespresso capsules
All my fellow coworkers pour themselves a regular cup of coffee, brew an espresso or make a tea.
If I'm making someone an espresso, I'll definitely go the extra mile.
First, I'll detach the water tank and wash it with soap and water. Truth is the machine is being used constantly every day and no one ever cleans it. I wash out the water tanks we have at home and notice the espresso quality improves because of it.
Next I'll brew the water alone into an empty cup. Just to rinse out whatever grind may be stuck in the machine.
Of course presentation is important. If I have access to glass or fancy espresso cups I'll definitely use those.
For the espresso grind or Nespresso capsule, I'll choose something of high quality or different from what people have tried.
Lastly once the espresso is done brewing I'll let it drip into the cup some more to add bit of a design to the crema.
And of course, I'll bring the drink to them with a smile on my face.
Thanks For Reading
I appreciate you taking the time to read my post on how to be a better barista in the workplace. Just going the extra mile (or kilometer – depending which country you're from) can put you ahead of the game.
If you have any questions or comments, feel free to leave them below.