Since becoming both a world traveler and coffee drinker, I have really wanted to try Cuban coffee in Miami.
Why Try Cuban Coffee in Miami, But Not Cuba?
That's a very good question. You would think the best place to try something is in the country where it originated from. But I have been to Cuba four times and wasn't a coffee drinker during those days.
I have never been to Miami and feel it would be the next best place to have an authentic Cuban espresso.
The Opportunity Is Coming
My wife mentioned she wants to go on a small vacation over the Christmas holidays. Most important for her was to visit some place warm. After doing some research we agreed the best possible destination would be Miami, Florida.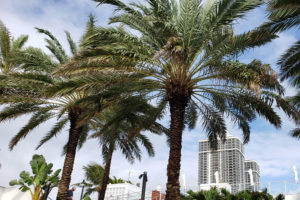 A famous quote from Lebron James came to mind – "I'm taking my talents to South Beach."
Only difference though is I got no talent, and South Beach might be just a little too expensive..
Miami Beach It Is!
I mentioned South Beach may be a little too expensive so the next best option would be another very expensive area – Miami Beach.
Also doesn't help staying at a nice four star resort which is directly connected to the beach.
Trying to budget for this trip isn't working out very well.
Planning What To Do In Miami
We booked our flight and hotel.
Next on the list is figuring out what to do.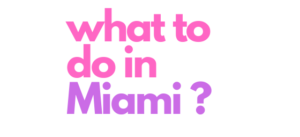 Online we noticed there's a Little Havana food tour and figured it may be a great way to try Cuban espresso in Miami. So we booked it for Saturday afternoon.
Soon Another Thought Came To Mind
If for whatever reason we cannot make Little Havana for the food tour, would Cuban Espresso be easy to find around the city?
Would it be just as good and authentic?
OMG – This is scary to think about!
Hotel Is Beautiful
We arrived and the place is lovely. While standing in the lobby from a distance we noticed they had a cafe just around the corner.
Right there we thought they probably have Cuban espresso so that takes care of that.
Next morning came and we ended up going to that cafe. There was a lineup. As I peeked over the counter, I saw the only espresso they served was Lavazza.
I went for it anyway – Very strong and smooth.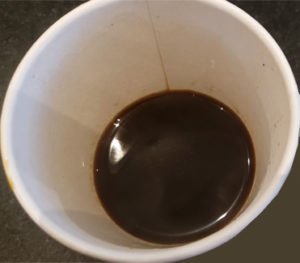 It was perhaps the best Lavazza I have ever had.
But I was still committed on finding Cuban espresso.
Next Stop Was Ocean Drive
We took an Uber and quickly explored it. Even stopped at Mango's to have a quick bite and Mojito. Both were delicious. From there we took another Uber to Lincoln Rd.
After exiting the vehicle I saw this displayed
My excitement started to grow. We walked up and down the area. Witnessed different kinds of retail and multicultural restaurants – Italian, Mexican, Peruvian.. but nothing with Cuban espresso.
All we came across coffee related was a few Starbucks locations. We entered one and saw a selection of coffee beans I haven't seen at locations near home, except for maybe the Yukon Blend.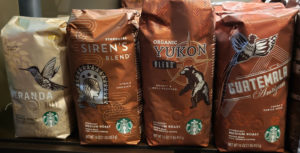 It was starting to get late and we went back to the hotel.
Next Day Was Jam Packed
After waking up and having breakfast, we took an Uber to Wynwood to see the beautiful art exhibits. From there we took another Uber to Bayside and checked out the marketplace.
While walking by the shops, my wife pointed in a specific direction and said "Dave, look!"

And below that we saw
Can you believe it??
Does that read what I think it reads??
Cafe Cubano for only 75 cents!
We ordered one and here's a picture of the machine it was brewed from.
Soon after we were handed our espresso and check this out.
It was served in a miniature sized plastic cup with a lid on top. That may explain why it's only 75 cents.
How Was My Cuban Espresso?
It was thick, creamy and came with a nice sweetness.
Flavor reminds me of the Cuban espressos I have been making at home. Only downside with mine is they are not as thick. Now I'm going to try focusing on improving the texture and thickness of the homemade versions.
After finishing the espresso, we rode a speedboat around downtown Miami and went to the Everglades to see some Alligators. It was a fun and productive day.
Little Havana Tour Coming Up
Next day we hung out at the beach and from there went to Little Havana. Even though we tried a Cafe Cubano the day before, we were excited for another.
Upon our arrival the Little Havana main strip was packed with visitors and traffic.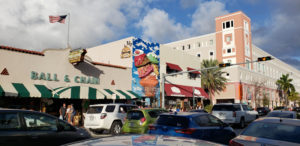 We started the tour and the second stop was a restaurant.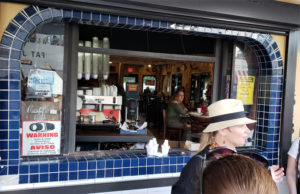 Here we sampled both Cuban empanadas and espresso.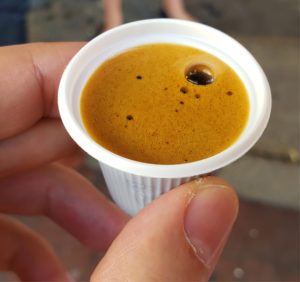 Once again it was thick, smooth and came with a nice sweetness. We really enjoyed it.
After The Tour Ended
The tour was filled with different stops and food samples. Once it was done, the night sky came and we continued exploring the area.
Before leaving for the night I wanted to purchase some Cuban espresso beans. I asked our tour guide and she mentioned no real ones exist in Little Havana. But some good Cuban style ones are available at different supermarkets.
Well that didn't help!
I wanted some good Cuban coffee beans!
But that's not going to stop me from exploring coffee shops in the area.
We entered one shop to try more Cuban coffee.
We got in line and I mentioned about trying some coffee here. My wife preferred trying at another location we saw earlier. So we looked around to see if there were any coffee beans available for purchase.
These were 'Gourmet' beans and just one bag left on the shelf. I had no idea if they were any good. The bag was fresh and came a beautiful coffee smell. So we made the purchase and left.
Next we checked out some retail outlets and made our way to the coffee shop my wife originally wanted to visit.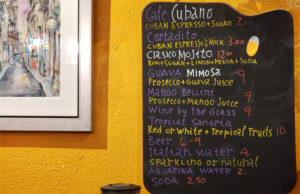 From what was showing on the menu above, we ended up having another Cafe Cubano. Truth is I was a little sugared out at this point and should have chosen a Cortadito.
But it was too late as we already placed our order.
Soon after we were handed our drink and loved the espresso cup and plate used.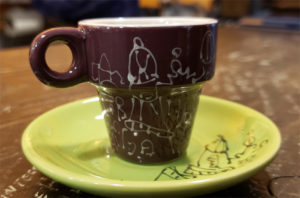 They had sets available for purchase which included a mix of different colors but we have too many espresso cups at home already.
Next Day We Were At The Airport
The next day was our final day and we were scheduled to fly out in the evening. We spent the day doing the hop on, hop off bus tour and hung out in downtown Miami.
When we got to the airport in the evening we checked in and waited in the waiting area.
My wife felt cold and wanted a warm drink.
She ordered a Cuban coffee. Unsure which one though. It may have been a Cortadito. I could be completely wrong.
Here's a picture.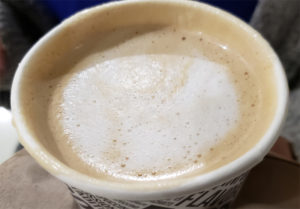 She absolutely loved it and wanted me to try. I told her I will in a few minutes.
Well, quite a few minutes passed and the cup became empty.
I forgot to try it.
Thanks For Reading
Thanks for reading my post on Cuban Coffee in Miami.
If you have any questions or comments, please feel free to leave them below.