Just recently got back from a two-week trip to Europe. It was an amazing vacation and here I am going to focus on the coffee from Italy. In this country it's not about just the espresso or cup of coffee. It goes beyond the simple drinks.
After a long eight hour flight we finally landed in Venice.

We Made Our Return To Venice
Once landed we quickly made our way through customs and caught the first bus which departed right away into Venice.
This was our second time there. We booked a Mediterranean cruise and flew in a day early just to play it safe.
If you have never visited Venice, I recommend you download an offline map of the city on Google Maps. It's very easy to get lost there.
The hotel we booked wasn't too hard to find so thankfully that worked out. It was a small hotel with just 3-4 rooms.
While checking in, behind the employees desk we noticed a huge coffee machine. We just arrived from a long boring flight and needed a morning kick.
After the check in was complete we were asked if we wanted a café or espresso with white or brown sugar.
I chose espresso with brown sugar.
It was strong, smooth and delicious. The sugar also had a nice sweetness which made the espresso that much better.
Number One Sweetener In Italy
Been to Europe numerous times and the food quality is better than North America. They have stricter laws and many of the chemicals used in the foods here are forbidden there.
Everywhere espresso was served in Italy, we were always given a mini envelope of cane sugar.
I'm not sure if processed sugar exists there, but every restaurant and café where I ordered an espresso served cane sugar with their coffee.
The difference in taste between cane and processed sugar for me was noticeable. The cane sugar added a light sweetness to my espresso drinks.
Once we returned home from our trip, I ended up purchasing a small bag of Brazilian cane sugar to use with my coffee drinks.
Exploring Coffee In Venice
Our first stay in Venice we tried regular espressos both with and without cane sugar.
Next we had some on our cruise ship and in Greece. I wasn't too big on the espressos served on the cruise ship because it tasted like espresso made from regular coffee grind. I was actually very disappointed considering it was on a cruise ship and we know how good the food and drinks are supposed to be.
The espresso in Greece was just as good as Italy. No complaints there.
After returning to Venice from the cruise, we had many hours to waste before our next flight. Late afternoon we were scheduled to fly into Naples.
We booked a tour to occupy the time which ended up getting cancelled right away by the tour operator.
So we walked through some of Venice checking out what there was to see and do.
Discovering Different Canned Coffee Drinks
While walking through one area in Venice we came across a retail store with a wide variety of random products. We were thirsty as it was a hot day. Luckily they had a refrigerator with a bunch of different drinks available for purchase.
I looked at the bottled pop and carbonated water. Seeing if there was something different we haven't tried.
My wife did notice something different.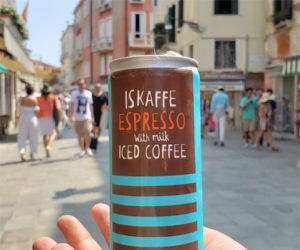 Back at home we have different kinds of canned coffee drinks. But never seen this so we gave it a try. Taste was light, smooth and refreshing. I don't recall it being sweet at all. We enjoyed it.
I'm aware this may not be an Italian product. But included it here because we discovered it in Italy.
Finding Coffee In Local Supermarkets
We came across a couple grocery stores and checked out the coffee sold in each. Let's just say flying overseas shopping for coffee is a horrible thing to do. There are huge varieties of coffee beans, coffee powder and compatible Nespresso capsules in the supermarkets.
I would have liked to purchase them all but luggage weight for the flight back home would have been an issue.
In one of the supermarkets we ended up purchasing three different boxes of compatible Nespresso pods.
Visiting A Venice Cafe
While standing outside I heard my wife call me into a local café. They had huge coffee machines and I was asked if I wanted to try their espresso.
At this point we were starting to run low on Euro dollars. Miscalculated how much we would need for this trip and still had a few more days left of this trip.
So I declined the espresso, then saw this
This café had their own Nespresso compatible pods and figured we should buy a box to take home.
At times I don't make sense. Too cheap to buy a low priced espresso but ended up spending around double the price on the capsules.
Interesting Dessert In Italy
We flew from Venice to Naples and took a private cab from the airport all the way to Sorrento. Our purpose for going down was to see the Amalfi Coast and Capri.
The following day after our arrival we did a full day tour seeing different regions of the Amalfi Coast and our first stop was in Positano. It was breathtaking with the gorgeous views and scenery. We had about an hour to explore the area before getting back onto the bus.
While walking through the town we stopped in a bakery or café. I went to use the washroom and my wife ended up buying this.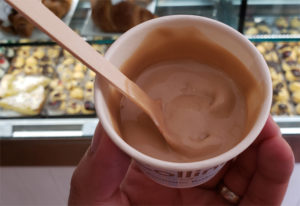 I believe it's called Italian coffee cream which is a soft ice cream.
It was delicious!
Had a light sweetness, light coffee flavor and most important of all, was very creamy!
Italy is known for their gelato and yes, we had tons of that as well. But this ice cream was very good!
We were hooked on this and had it again at Marco Polo Airport in Venice before flying home.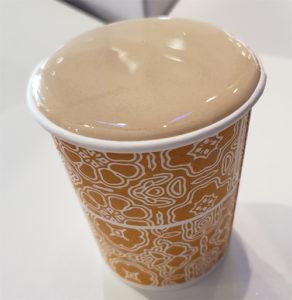 Thanks For Reading My Post On Coffee From Italy
Thank you for reading my post on Coffee from Italy. The country does have many coffee options.
If you have any questions or comments, please feel free to leave them below.