Before you purchase any of the best Nespresso compatible capsules below, please make sure you have a Nespresso OriginalLine machine. These use the bullet shaped Nespresso pods.
The best quality pods are definitely made by Nespresso. Smooth, thick crema which come in a variety including seasonal flavors. But they can become quite expensive over time if you drink a lot. Good thing these aren't your only available options.
How It All Started
Being an espresso fanatic, I've always checked the coffee section of grocery stores to see if there was something I never tried. But what caught my eye is most of these stores sold compatible pods and I always wondered if they were any good.
Interest for purchasing a Nespresso machine went up dramatically.
Luckily for me at the time a computer store had a huge Nespresso sale and all their machines were reduced to clear. So I didn't waste any time and went to see if the Pixie machine was still available. They had just one left at 50% off!
Since purchasing my machine, I've been researching and testing out compatible pods to see if any can compare to the official ones.
Problems With Compatible Capsules
I have tried and researched numerous pods from random companies and found flaws with each
Poorly designed capsules which can melt/get stuck in the machine
Brewed espresso being too watery
Lack of flavor
Online reviews mention similar things. Also don't forget there are a variety of OriginalLine machines and some handle compatible pods better than others.
I have the Pixie machine and haven't had any issues so far.
My Favorite Compatible Pods
In the early days after trying quite a few compatible pods, I thought maybe should just stick with the official Nespresso pods. But since then many companies have created their own versions and I have tried quite a few good ones.
CAFE AGGA
It was a long weekend up here in Canada and went on a road trip with some family members to Montreal, Quebec. We had a blast and if you're a sports fan, we watched the Toronto Raptors beat the Milwaukee Bucks in 2 OT's to get their first win of the 2019 Eastern Conference Finals. Many in Montreal were cheering the Raptors so that was pretty cool to be a part of.
At the end of the weekend before leaving Quebec I wanted to stop at an IGA grocery store. Main reason was to check out their coffee selection to see if they have something different from Ontario grocery stores.
That's where I discovered the AGGA compatible capsules which were on sale.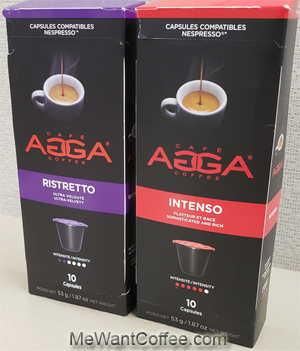 Box of 10
Regular $5.99 CDN
ON SALE for $3.99 CDN.
So I purchased the two boxes pictured above.
PROS
Very smooth
Not watery
Good crema
Price
CONS
The flavor is light. There are different strengths and the two I purchased (Intensity 2 and 5 out of 6) both had a light taste. I enjoy stronger espresso. But if you prefer a light espresso taste, this would be a winner.
CAFFE CAMARDO MINIBAR
After work on a Friday I was heading to a buddies place to watch some playoff Basketball and passed by a high end grocery store I've never explored. So I decided to make a stop and head straight to the coffee section.
They had these compatible Nespresso capsules in stock and were a little expensive I thought – 10 pack for $7.99 CDN.
So I purchased two boxes and was actually very impressed with them. For me the price was worth it. Brought them to work and offered a pod to three of my coworkers and they each loved it!
PROS
Nice strong taste
Not watery
Good crema
CONS
Price (only because I purchased from an expensive grocery store)
TRADER JOE'S
I was in San Francisco with my wife and after leaving the Cheesecake Factory connected to Macy's, next stop for us was Trader Joe's. This was our last night in the city and we were committed to visit before flying back to Canada.
Once again I focused on checking the coffee section and saw the following.
So I bought two cases as that's all they had.
Coworker of mine tried it and was very impressed. Every month she goes on a road trip to Buffalo, NY and now makes stops at Trader Joe's just to buy these pods. Saves me from having to make the trip myself!
PROS
Taste matches the strength of the pods
Not watery
Good crema
Price
How I Discover The Best Nespresso Compatible Capsules
As you know, every time I visit different retail stores including grocery and boutique, I always check out the coffee sections to discover if there are any different compatible pods.
Most of what I discover and purchase are at retail stores. And some of those compatible pods I couldn't find online originally. Good example is the Agga pods. Upon finding them at the grocery store in Quebec I was skeptical on purchasing them because had no idea they existed. Haven't seen them online anywhere.
Only afterwards I was able to find them online just because I searched them by name.
Speaking of online, that's another option. I use the search engine to see if there is something different or go on Amazon to potentially find something new or different.
Reviews are always checked for what I find online and purchase. Then I compare my opinion to the reviews to see if they are comparable.
My Conclusion
Thanks for reading my post on the best Nespresso compatible capsules. As much as I would love to stick to the same capsules, I prefer researching and trying different ones just so I can advise you what is good.
It may take us a while to find the right pods that suit our tastes. My mission here is to help you save time and money so you can make the right choices sooner than later on purchasing the right capsules.
I would love to hear from you!
If you have any questions or comments, please leave them below and I will get back to you as soon as possible.
All the best,
Dave